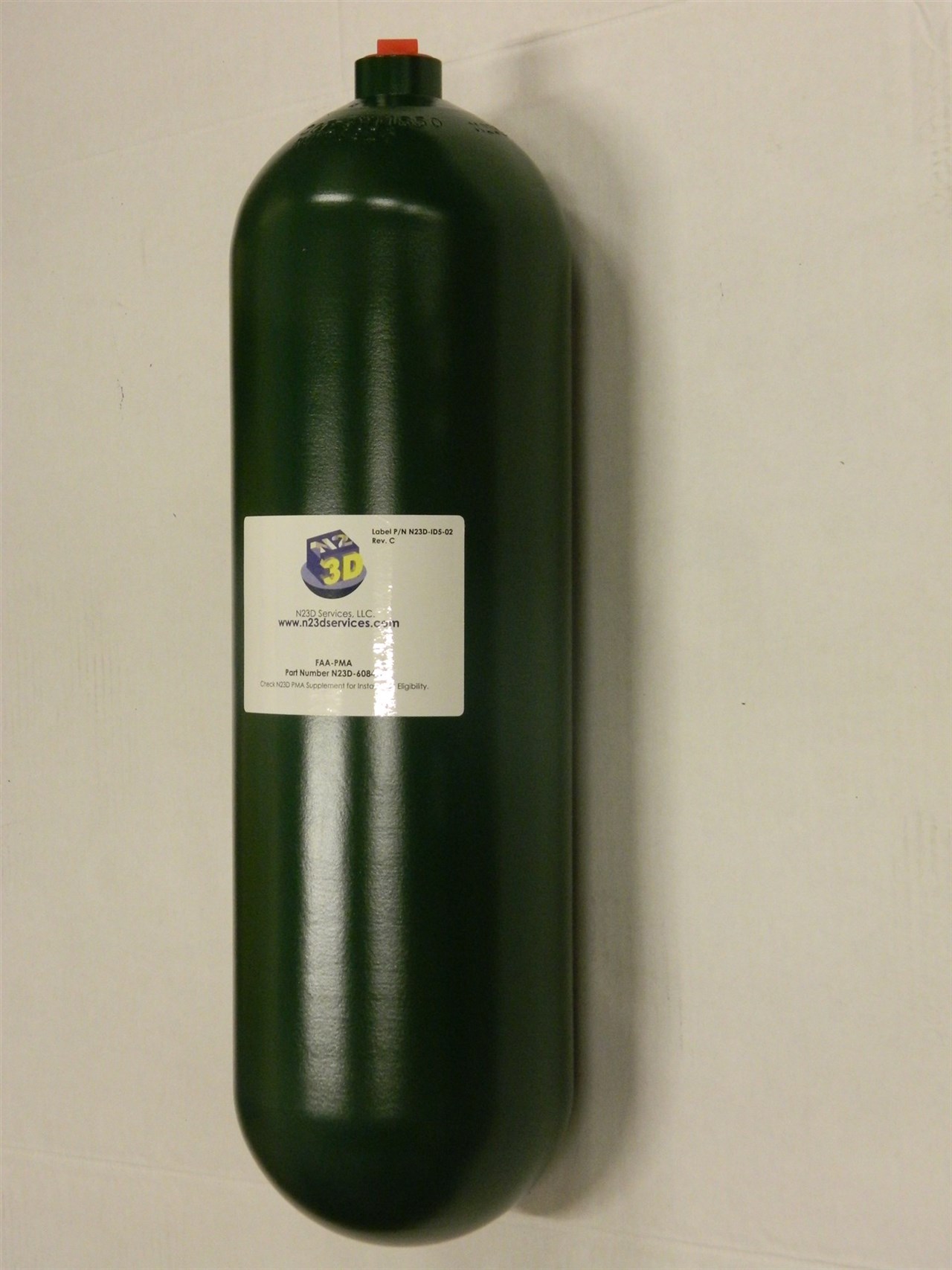 Part #: N23D-6084-29

The N23D-6084-29 cylinder is a PMA approved replacement cylinder for Avox/Zodiac cylinder P/N 6084-29, 10005002, 6350A27XA, and 6350A27-X-A, and B/E Aerospace cylinder P/N 176000-64. The N23D 6084-Series PMA cylinder is manufactured to DOT 3HT specification, the same as the 6084-29, 42057-00, 10005002, 6350A27XA, and 6350A27-X-A cylinders from Avox/Zodiac and 176000-64 cylinder from B/E Aerospace. The cylinder is made from a steel billet, stretch formed into a cylinder with the end spun formed. The N23D-6084-29 PMA cylinder is eligible for installation into the Oxygen Systems on Aerospatiale, Beechcraft, Cessna, and McDonnell Douglas aircraft.
Avox/Zodiac:
6084-29
10005002
6350A27XA
6350A27-X-A
6350A27XAK
42057-00
B/E Aerospace
176000-64
Aerospatiale ATR42-300/-320
ATR72-101/-102/-202
Beechcraft Airliner Series C99
Baron Travel Air B55 E55 58 G58
King Air Series
Cessna Model 500/501
Model 550
Model 550/551
Model 560
Model S550
McDonnell Douglas
DC-9-32
DC-9-81 (MD-81)/DC-9-82 (MD-82)
DC-9-83 (MD-83)/DC-9-87 (MD-87)
MD-88
All images used are for illustrative purposes only. The specifications of cylinders is correct at the date published but may be subject to change as necessary and without notice. Images are indicative of the quality and style of the specification and may not represent wholly the actual product.