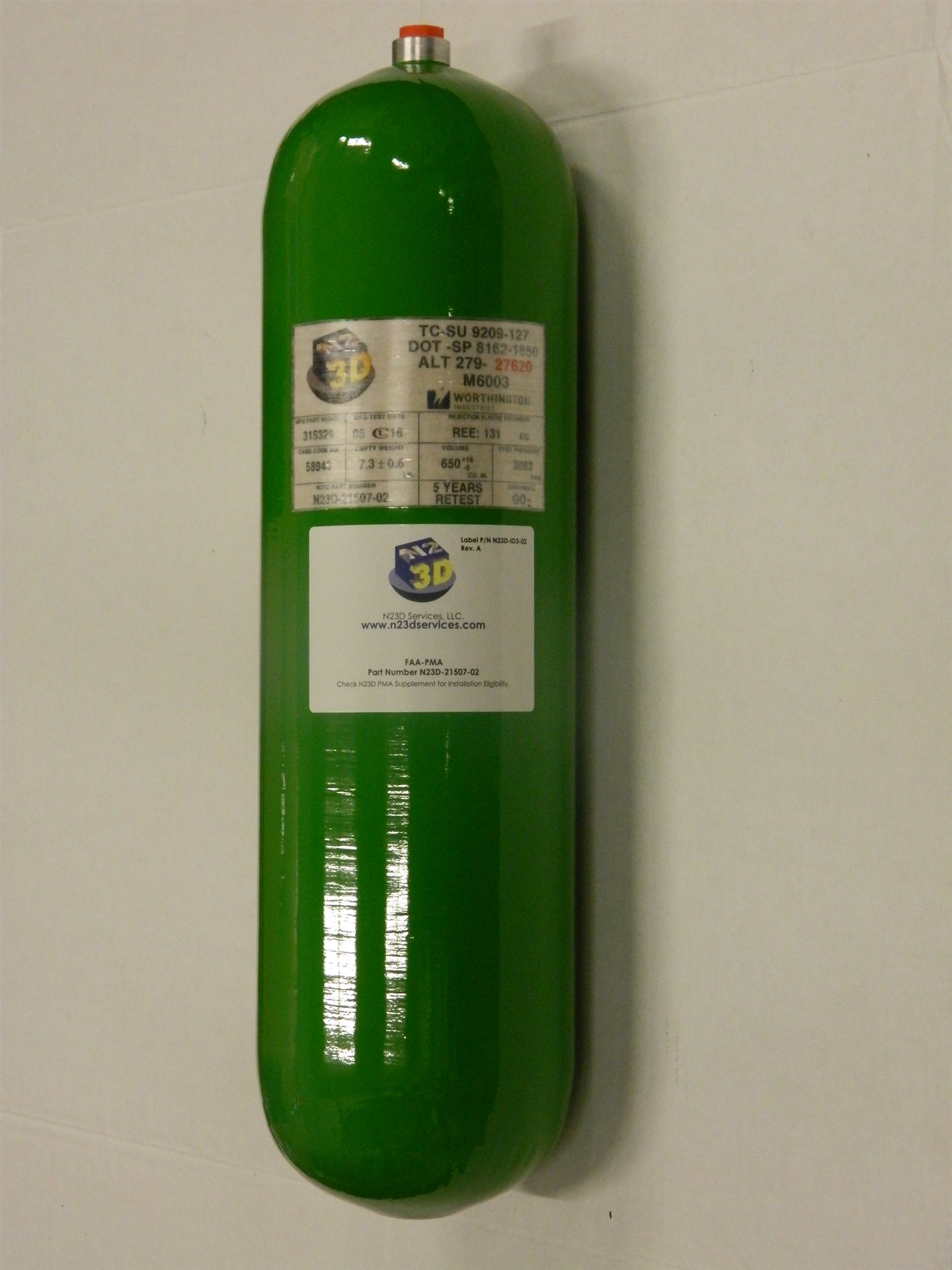 Part #: N23D-21507-04

The N23D-21507-04 cylinder is a FAA-PMA approved replacement for Avox/Zodiac cylinder P/N 21507-04 and P/N 21507-15, and B/E Aerospace cylinder P/N 176700-115 and P/N 1270152-4. The N23D-21507 Series PMA cylinder is manufactured to the same DOT specification as the Avox/Zodiac 21507-04 and 21507-15 cylinders and the B/E Aerospace 176700-115 and 1270152-4 cylinders. The cylinder is constructed of a seamless aluminum liner with a Kevlar epoxy resin composite overwrap and polyurethane top coating. The N23D-21507-04 PMA cylinder is eligible for installation into the Oxygen Systems on Commuter aircraft (Aerospatiale, Airbus, Boeing, Bombardier, Embraer, and M7 Aerospace SA227-CC/SA227-DC) and General Aviation aircraft (Beechcraft, Cessna, Dassault, Gulfstream, and Mooney).
Avox/Zodiac:
21507-04
21507-15
B/E:
176700-115
1270152-4
Aerospatiale

ATR42-500
ATR72-102/-202
ATR72-212/-212A
Airbus
A300-600 Series A319 Series
A320 Series
A321 Series
A330-200 Series
A330-300 Series
A340-200 Series
A340-300 Series
A340-541
A340-642
Beechcraft
B200
King Air Series
Starship 1 Model 2000
Boeing
B727-Series
B737-Series
B747-Series
B757-Series
B767-Series
B777-Series
B787-Series
Bombardier
BD-100-1A10 (Challenger 300/350)
BD-700-1A10 (Global Express)
BD-700-1A11 (Global 5000)
CL-600-1A11 (CL-600)
CL600-2A12 (CL-601)
CL-600-2B16 (CL-601-3A Variant)
CL-600-2B16 (CL-601-3R Variant)
CL-600-2B16 (CL-604-Variant)
DHC-8-200 Series
Cessna
Model 208
Model 208/208B
Model 680A
Dassault Falcon
900/900EX
Falcon 2000
Embraer
EMB-120
ERJ-190-100
Gulfstream
GIV
GV-SP
Mooney M20K/ M20R/M20S
M7 Aerospace
SA227-CC/SA227-DC (C26B)
1 Supplement No. 2
2 Supplement No. 5
3 Supplement No. 9
4 Supplement No. 10
5 Supplement No. 11
6 Supplement No. 14
7 Supplement No. 16
8 Supplement No. 18
Check Supplement for detailed Eligibility list.
All images used are for illustrative purposes only. The specifications of cylinders is correct at the date published but may be subject to change as necessary and without notice. Images are indicative of the quality and style of the specification and may not represent wholly the actual product.